Energy Auto Switching Service


For too long energy suppliers have been rolling their loyal customers onto their most expensive tariffs. They have been taking advantage of the fact that most people don't have the time or the interest in comparing the market every year.
Our service automatically switches people to a cheap energy deal every year.
We save people on average £251 and have saved some people £400.

We got the best deal in the history of Dragons' Den by selling 3% of the business for £120,000 see

BBC article

.
How It Works:
We email you when we are about to compare the market, then once we find a deal we switch automatically (this is so the deal doesn't disappear) then we email all the details over and you have 14 days to review/cancel. In this way we ensure the deal is right for you.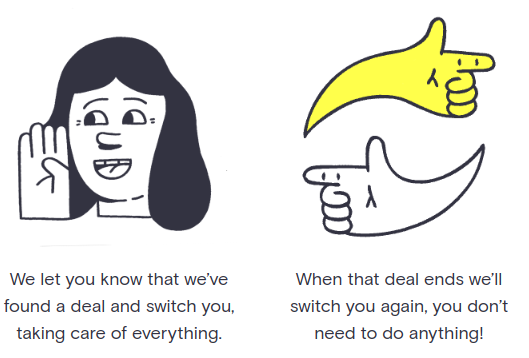 We only work with suppliers who meet our customer service standards and we keep the service free for customers by getting a flat rate payment from the suppliers. We're completely impartial as well. See more on website here
Energy Industry Facts:
For the last 2 years 57% of people have been found to be on standard variable tariffs – these are the most expensive tariffs. [1] [2]
In 2018 only 18% of people switched their energy. [2] so now is the time to ensure you get the best deal for your energy consumption and helps to reduce your household bills.